★★

New R600a Approved Ice Products

★

★


Molon Motor Benefits
Manufactured in central USA – Unparalleled benefits of local support, Central time zone, shorter lead times, no tariffs, shorter delivery times and lower shipping costs.

Uniquely positioned as both a motors/gearmotors AND Ice products expert.

Manufacturing under ISO certified processes and procedures and internally performance tested – Provides longer, worry-free operation and reduction of manufacturing errors.

Molon is a UL approved test and certification facility.

Molon is ISO 9001 and ISO 13485 (Medical) certified; practices Lean and 6 Sigma.
The Leader in Ice Delivery - Auger Motors
Produced and delivered Auger units to Refrigerator Manufacturers for over 20 years.

Produced over 7 million units with minimal failures, very Low PPM.

First to use a DC Motor for higher starting torque and stall torque.

First to be approved for R600a Refrigerant.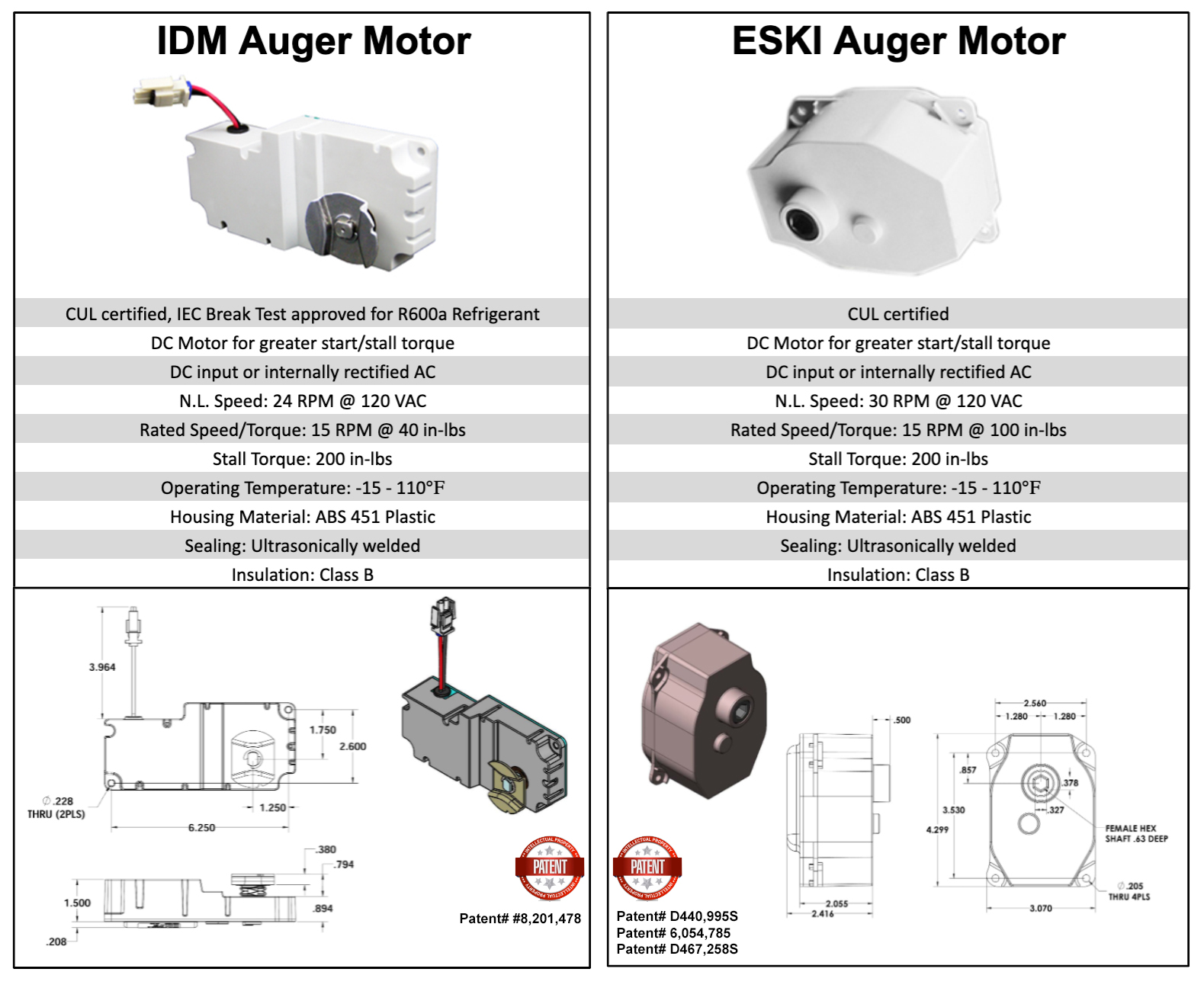 Auger Motor Availability
Multiple versions of both Auger motors are in current production.

Samples are available of each unit.

Options that are available include:

Voltage

Speed / Torque

Shaft detail

Electrical Connections

Only the IDM2 Auger Motor has been submitted and approved for use with R600a Refrigerant.

The ESKI Auger Motor has been designed for use with R600a Refrigerant, but not yet submitted.
***Questions can be directed to John Herzog or Bill Moloney Jr. 847-253-6000
An IceMaker Like Never Before
Wouldn't it be great to have an icemaker that takes up less space, has already been approved for R600a Refrigerant, has easier ice dispensing and produces the preferred cube shaped ice, while also using less energy and with far fewer service problems? What if such a solution were to exist AND be a drop-in replacement for the current diecast icemakers used today?
Molon has done just that. Molon has created the most unique offering in the refrigerator market today. The COMAR "IcePro" IceMaker is loaded with features that will benefit both the OEM and the consumer.
Many of the features and benefits can be promoted by the OEM to enhance their refrigerator's appeal and attract more consumers to buy and to increase consumer satisfaction.
Features and Benefits for the Consumer
"Convection Cooling" - Ice cooling acceleration fan reduces cube production time by 30%.
"Shape Matters" ice cubes - Cubed ice is the preferred shape by consumers.
"LevelEye" Touchless ice level detection - Integral Optical Sensors eliminate the traditional, problematic mechanical bail arm resulting in no contact or contamination with the ice, and no wear of contacts, and no breakage or freezing of the arm, resulting in providing problem-free use and long life.

"Ice-Smart Logic Control"

Intelligent logic Control - A Microprocessor controls the water fill, detects un-harvested ice, senses when cubes are frozen, error detection/correction, and continually checks the system's status;
Solid-State Switching - Worry-free, 10X longer life than typical electro-mechanical switching;
On-Board Diagnostics - An industry first that provides diagnostic output codes informing the status of the icemaker and avoiding costly service calls.

Safety - UL tested and approved, IEC certified including use with R600a refrigerant. UL File SA44820
Cost of Quality - Use of solid state electronics and optical sensing removes key warranty issue, reducing PPM by over 50% and further increasing consumer confidence.
Energy Efficient - Uses 30% less energy which is critical for consumers and the environment, and can help towards Energy Star requirement.
"Plug and Play" Module - Even though it is the smallest in size, it is a direct replacement for traditional AC powered diecast units - it has the same mounting and connects to the AC line.
COMAR "IcePro" IceMaker Availability
R600a compliant - Break test complete and approved.

Samples are available.

Production units available in Q2 2021.
***Questions can be directed to John Herzog or Bill Moloney Jr. 847-253-6000
LEGAL NOTICE:
Both the IDM & ESKI motors are PATENT PROTECTED. Any violation of our Intellectual Property Rights will be pursued.
ESKI Patents #D440,995S #6,054,785 #D467,258S
IDM Patent #8,201,478